Before this post starts, I just wanna post this code thing, 7786389519 to claim my blog on Anime Blip.
—
Last night, I finished Persona 4. And it was AWEEEEESOME! This will be my top 1 on my top best video games (Which I will make a post about that tomorrow or the next day, Im just gonna collect all those video games I like then I will sort them by rating, wait for that post mkay?)
Plot:
(Sorry, copypasta. Im lazy today :0)
After moving into Inaba, the Protagonist quickly settles into the small town life, gaining friends at Yasogami High School. Shortly after his arrival, two people are found dead following a foggy night; a celebrity accused of infidelity, and the high-school student that found her body. Those that watched the Midnight Channel claimed to have seen the victims prior to their deaths. The Protagonist reveals to his friends that he has the ability to enter television screens, and is able to bring them along. In the TV world, they meet Teddie, who explains that the victims had been pushed into the Midnight Channel, and that when the fog in the TV world dissipates, they are met by Shadows, representing their repressed emotions. If the character in question rejects these emotions in denial, they are killed by their strengthened Shadow. The Protagonist's friends find Shadows of their own selves, but with the Protagonist's help, are able to defeat them, granting them their own faithful Persona, and find they can enter the TV world on their own.[3] The friends decide to form a team to solve the murder mystery.

Over the next several months, after several incidents, the team discovers that those who appear on the Midnight Channel vanish in the real world a few days later. Each time, the team enters the TV world and saves the classmate, helping them to defeat their Shadows. These students subsequently join the team. When a teacher from the school is found murdered in the same fashion as the first two victims, the team is able to find the suspected murderer, a fellow student, hiding in the TV world, but they quickly realize that he was a copycat killer, and the true suspect is still at large.

After receiving a mysterious note warning the Protagonist to stay off the case, the team deduces that Namatame, the one who had the affair with the murdered celebrity, is the killer. Nanako appears on the Midnight Channel and is quickly abducted by Namatame, with Dojima injured trying to apprehend him in a car chase. The team enters the TV world, and, finding Nanako being held captive by a crazed Namatame, are able to rescue her; however, Nanako has fallen into poor health. Furthermore, a persistent fog has appeared in the real world, behaving similarly to the fog from the TV world. When the team questions Namatame, they realize that he was responsible for all of the students' abductions to the TV world, claiming that he was "saving" them after they appeared on the Midnight Channel. At this point, the player may opt to end the game deciding on Namatame's fate, but this will result in the "bad" ending, where Nanako's health does not significantly improve, Teddy returns alone to the Midnight Channel, and the fog remains persistent over Inaba when the Protagonist leaves the city after the year.

Full plot @Wikipedia-sama.
Characters:
Teh Protagonist
This character is the one whom you will be controlling. So expect him to have an absence of noise, or ratherexpect him to be very quiet. His persona is named Izanagi (which I didnt even leveled it up to lvl 20), which of course, will play a big role on the game. He attends a school in Inaba (a small town which will be temporary home) named Yasogami High School. There he meets good friends and learns a lot of course.
Yukiko Amagi
The demure, modest, cute, boy-hater and a weird girl from the town of INABA! She meets Teh Protagonist and will form some relationship (Well, she is my girlfriend for your info) Her persona is Konohana Sakuya (which I totally love the name). Often described as a healer, priestess but mostly healer. And you definitely want to see her in kimono. You decide.
Chie Satonaka
The weird-haired girl. She is very athletic (since she knows Kung Fu, talk about kickass), talkative, funny, cheerful and very energetic too. Without her, Teh Protagonist wouldnt have friends in Inaba since she is the one who introduced herself and her friends to Teh Protagonist. Her Persona is Tomoe ("Protect me Tomoe~!", Oh God I cant stop saying that). A weird persona which looks like a bumblebee, a cool bumblebee! If you like her, then youll gonna be liking her even more when you see her kickass (literally) attack. Shit, why didnt I became his boyfriend?
Yosuke Hanamura
The funniest in the group. He is definitely my favorite character. His persona is Jiraiya, a very weak persona with the wind element. Trust me, his very weak. Or am I just disappointed I didnt transform his persona to Susano-o? If you like him then you should go buy an IPod with head ginormous headphones instead of earphones then place it around your neck without even listening to the music of your IPod. GO!
Other characters which you should find them out yourself:
Review:
This is the first RPG that I finished. And the first RPG that I find awesome. In fact, I dont like RPGs since I find them boring and yeah, you get my point right? I discovered this game months ago. I saw some of my Crunchyroll friends ( liking them. And totally recommended it to me. And kanzeon, which is a Persona-fangirl (I think), and always sees her talk about P4 so i totally checked that game out.
Here goes my review, for real..
The story is very well done. A small town, with drastic events going on, a group of teenagers with a mission to save the world, antagonists doing some.. uhh antagonist's stuffs, revalations in the end = A typical story right? You got that wrong. Persona 4's story differ in some way. Well maybe the main story is very typical but the inside story, that part will be different. The characters are lovable. We all can relate to them. They have different stories to tell, interesting stories. Also, each of them has different traits which will make us go haha or wtf? or uh huh. The graphics, not that good. But the anime inserts/cutscenes are the best. The music wont get out of your head. Seriously, they will play it for a looong time and repeatedly. But in a good way, every repeat, you will be much inloved with the song. Especially "Your Affection". And wait for ******'s dungeon, the song there is nice. And the very ending song will be your favorite at no time. Expect that the gameplay will be the same as others. Well this is an RPG so yeah. The same gameplay. HP, skils, the menu thing with items, equipments and dont forget escape function. Overall, best RPG ever for now. Persona 4 gives us entertainment, enjoyment and at the same time, a heartwarming story about friendship.
Some P4 revelations (Oh my God yes this is a spoiler!)
Teh Protagonist is bisexual.

Kanji is bisexual.

Inaba sucks.

Rise is a bitch. (and oh look at this! HOT!

Naoto is a trap!

Teddie is an annoying blond person within.


Yukiko is a bitch.

Chie is not a bitch.

Yosuke is a son of a bitch.


The nurse in the hospital… is a bitch. Dont get close to her.

Adachi is a son of a bitch.

Mitsuo Kubo is FUGLY.


Hanako is FAT. (So I heard she has a secret dungeon!?)

Ayane is related to Pikachu. (hahahaha)

Ai is a bitch.

Persona 4 is NOT related to the anime 'School Days'.

Yukiko is NOT fat. BLASPHEMY!!
Mr. Morooka is NOT hot!. Good thing he died.
The gas station person in the.. uhh gas station is a GOD!
Teddie has some noisy footsteps.
Dojima.. Dojima.. Dojima..
I love Nanako-chan.
Persona 4.. is AWESOME!
Is it time for Persona 4 picture spam yet? Oh I bet it is!

I wanna use this someday as my banner. If I got my Photoshop back. :D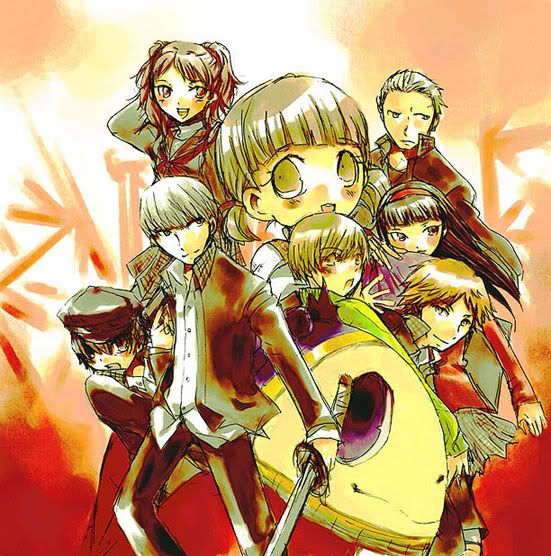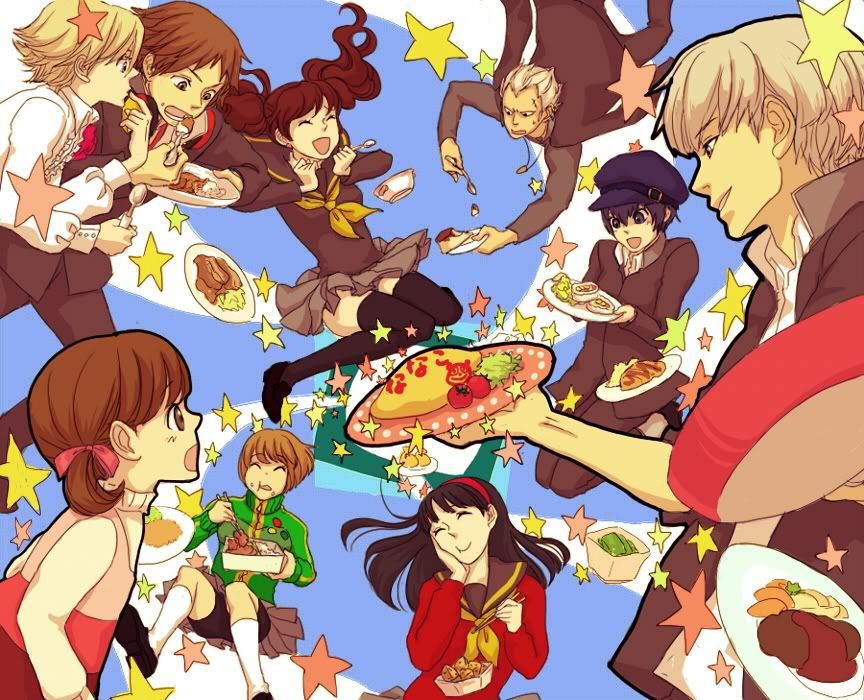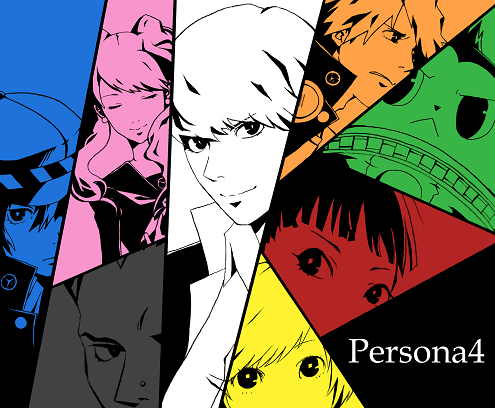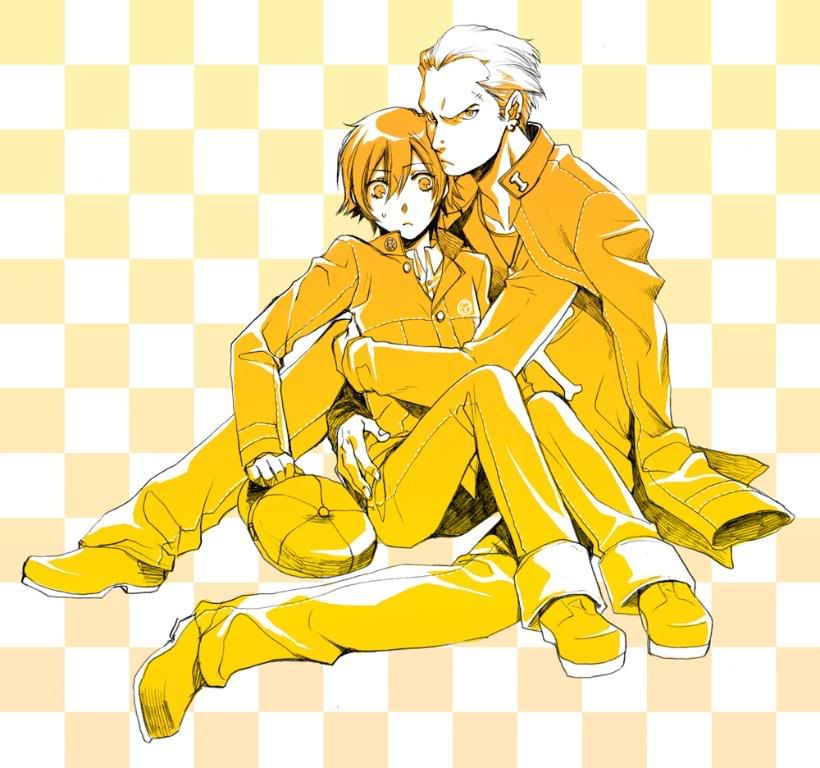 OMG NO! ITS YAOI! Oh no its not. Oh wait Im confused.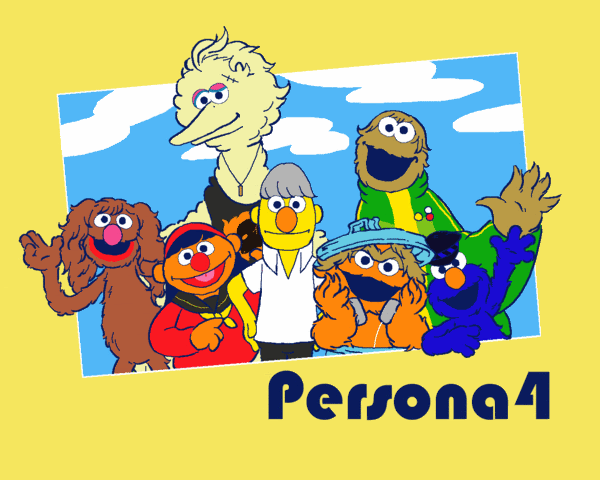 Best. Crossover. EVER.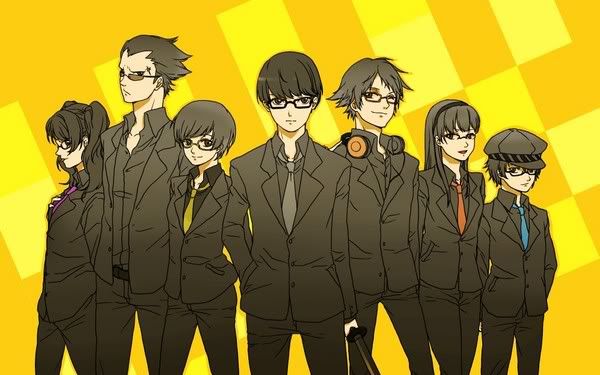 And for the finale…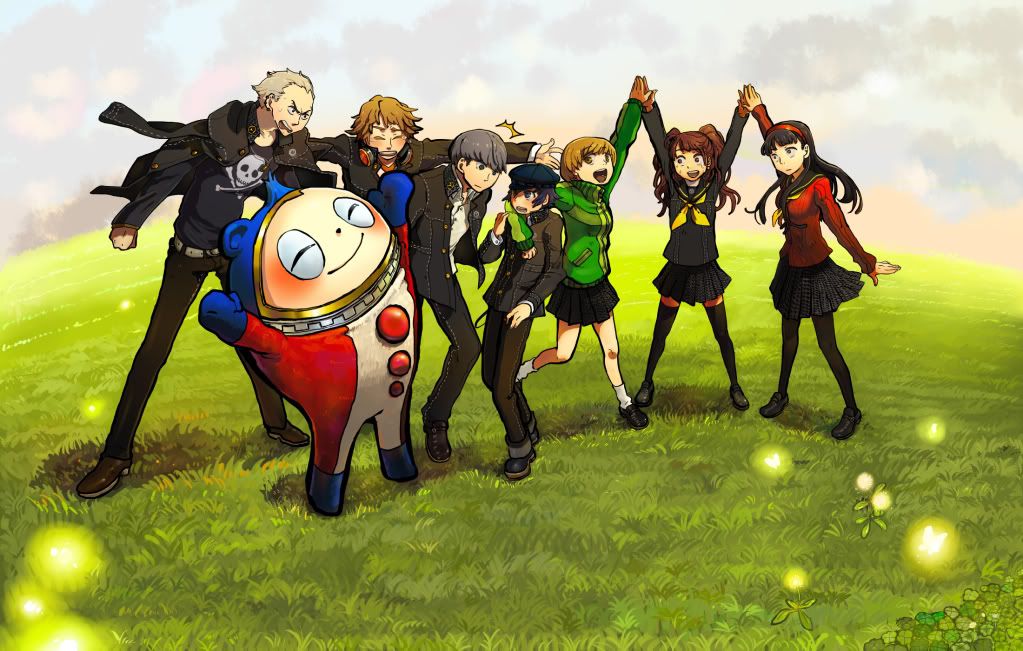 What? There is another ending for P4!? Damn I need to play it in the end part and fight the secret dungeon!